I had been demonstrating against the War in Iraq since before it happened. During the first two years of the War, I was out in front of my small Town Hall, most afternoons at 4 PM. I usually had company. After my friend Ahmet retired from teaching here, I often found myself alone. My signs varied over the years. Beginning with "U.S. Out of Iraq," it changed to "Support The Troops: It's Time To Come Home!" Having spent more than a decade working to end the War in Vietnam, I knew something about the long haul.
But I must admit, I grew angry as I watched the cars drive by. And at times, even the honks of support irked me. Why weren't they out here with me. Gradually I reduced the days, settling on Saturdays, from noon to one.
One day a younger friend, Rudi Bach, gently suggested that my sign and I had become part of the background. Everyone expected me to be there. I (and we) needed to do something new and different.
Rudi suggested using street theater and paradox. He would stand across the street from me and wage a vigorous counter-demonstration. People couldn't avoid seeing us both. We'd bring the war downtown.
I had no idea how far Rudy was willing to go. I quickly found out: there he was the following Saturday with several beautifully made signs, making mine look shabby. "Screw Peace!" his sign declared on one side. "It's Our Oil," said the other. Before I knew it, he had a crew of young people out there with American flags in combat fatigues. They made new signs: "Peace is for Losers," and "Gandhi Was A Wimp," and "God Supports U.S., Not Them!"
Here's some of the signs: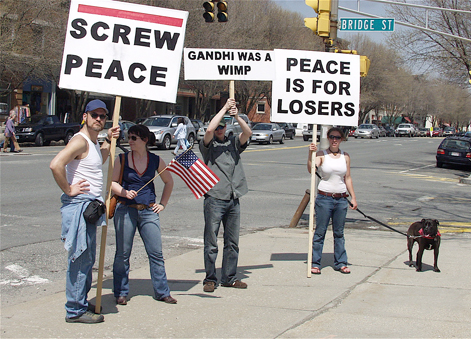 It's remarkable, but almost everyone took Rudy seriously. He endured some extraordinary abuse – especially from peaceniks on their way to and from the food co-op. They'd scream at him from the rolled down windows on their Volvo station wagons. Several suggested Rudy go to hell and worse. Pro-warsters finally had someone on the street to echo their own support for the war. They'd hoot and honk.
Rudy was right and within a couple of weeks the anti-war ranks swelled.
Then one Saturday when Rudy and 4 or 5 others were arrayed across the street from a handful of anti-war demonstrators, a young man walked up to me. Before he even spoke, I could see he was upset. "Those guys over there," he said, pointing to Rudy. "Are they for real? I just got back from Iraq … " He didn't have to finish. I knew how pissed he was. I quickly explained what Rudy was doing. And I introduced myself.
He was Spc. John Flynn.
Later that night John bumped into Rudi at a local bar and they talked for a long time. A short time later, Rudi invited me and 25 others to his loft to see John's slides from Iraq. I'm one of the rare Americans who hate slideshows – the ubiquitous shot of Mark and Mary framed against the beauty of the Grand Canyon.
But I was blown away by John's simple and unadorned shots of he and his young buddies. There was such a combination of vulnerability and courage. I was struck by how similar this was to every other American slideshow – except the shots weren't about what we did on our summer vacation, but what we did at war.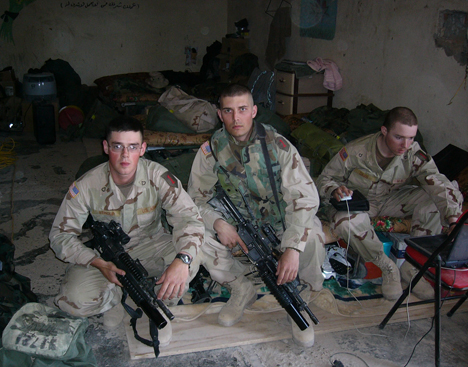 I was still tired from making "Good Things To Life" my last documentary – a 10 year process – capturing the battle of environmentalists, former workers, and sportsmen to force GE to clean its PCB contamination from the Housatonic River and homes in Pittsfield, Massachusetts. But after seeing John's slideshow I knew his was a story I had to tell.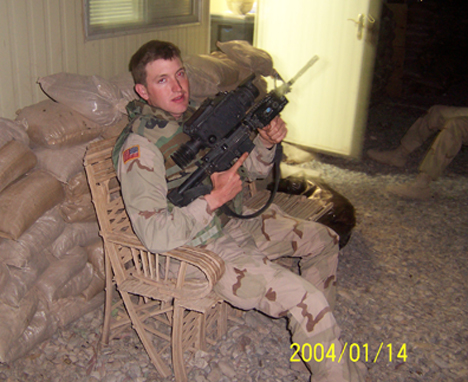 John Flynn with his sniper gun
Rudi and I began to interview John in Rudy's loft. I had no money for the project and began shooting with my old Sony VX1000 in mini-DV. I wanted the feel of the slideshow – small and intimate. As I began to shoot I was fascinated by John's face and soon began to frame everything tight. We used the available light in the loft. Everything was simple and unadorned; everything designed to make John feel comfortable. I used my Shoepes microphone mounted to the VX1000. I was a few feet away from him.I quickly understood that John was taking me on a journey I knew nothing about. And it became clear to me how important it was to honestly acknowledge my ignorance. My questions probably seemed so basic, even stupid to John. But it enabled him to tell his story from the beginning. At his own pace, on his own terms.I could see him through the wide angle lens taking my questions in. I could see weighing his words. I watched him search for his own truth. And the fact of the matter is, he did better at the truth than I did. Sometimes what he said was so raw, so honest I couldn't really take it in.Like most documentarians, I went into each interview session with a list of what I thought I needed to ask, and, quite frankly, what I expected ti hear. But many times, I left feeling I had failed. That John hadn't told me. The truth, it turned out, was that I couldn't hear. I wouldn't let myself take it in. And it wasn't until I was back with my Mac and Final Cut Pro, reviewing and reviewing, that I saw it was all there.
There are several moments that stand out: when John first told me he had been trained as a sniper. I had no idea how one became a sniper. And John painstakingly took me and Rudi along as he recounted the journey. Even now – after months of editing – watching it gives me the chills. And the moment, after several interviews, when John offhandedly told us that he and his buddies had gone on 620 combat missions in the year they served in Iraq.
That early reaction to the slideshow shaped the way I edited the film. I decided not to use the kind of war footage that played on the daily TV news. The gunfire. The explosions. The smoldering cars and buses.
John had hundreds of photos that he and his buddies had taken.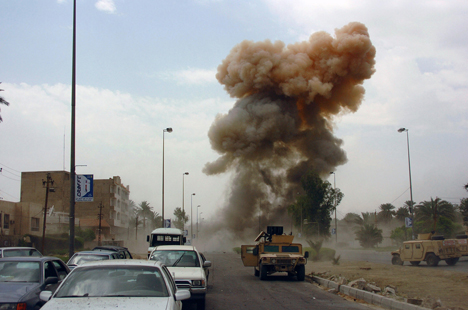 And then I discovered a veritable treasure-trove of photos that the various armed forces had posted on their websites. I spent many hundreds of hours looking at and downloading the riveting and effecting work of countless Army and Marine and Air Force photographers.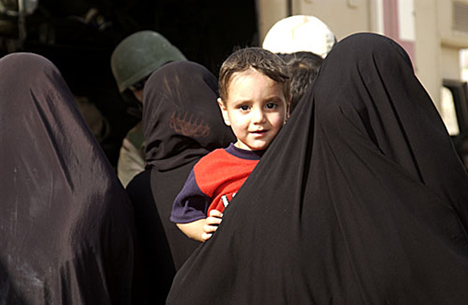 And since I had spent the year before creating a series of radio programs about the war – rediscovering how powerful it was to hear without seeing – I continued to capture audio from CNN and Reuters and AP and the BBC.
The other element that was swirling around for me was the very strange collision between the reality of war and the ever-present tranquility of life here in Great Barrington. If I could feel the painful gap as I spent hours listening to war reports, reviewing John's interview material all from the safety of my edit room and downloading photos during my hours-long retreats at FUEL, the DSL-endowed Great Barrington Coffee Shop that's my home away from home, imagine the incredible dislocation John (and Iraq vets everywhere) was experiencing. It took every ounce of imagination watching people go about the daily life to remember we were at war. I decided I had to capture the extraordinary gap between the men and women we sent to war and ourselves. I began to film everyday life in Great Barrington – my friends and neighbors and visitors walking our streets.
This was the hardest thing I've done. And I've made films about difficult subjects – life in Nicaraqua; a dear friend's losing struggle with breast cancer; GE's callous contamination of its employees and a community it called one of its "hometowns," – but, for whatever reason, for those hours before the camera, John Flynn was so willing to share his story, so willing to put aside ego and artifice, that I was taken along on his incredibly difficult but ultimately extraordinarily illuminating journey.
We so easily send our young men and women to war. With today's volunteer army, we hardly notice who has gone. And for all our best instincts, it is so very easy today to go about our business – whether it's work, or family, or school, or fun – to forget or fudge the fact that these young people are killing and being killed.
They and families bear the brunt of an enormous sacrifice. And they do so more or less alone.
I hope in some small way that "World On Fire: Spc. John Flynn's War in Iraq" provides some insight into the costs we are all paying – especially John and his soldiers-in-arms.