SONGS FROM THE HEART: EDITH WHARTON is an hour-long portrait of the life and art of Edith Wharton, the first woman novelist to receive the Pulitzer Prize. Adapted from Mickey Friedman's play, SONGS weaves personal reminiscence with dramatic excerpts from her novels, and offers its audience a look at the inner life and development of one of America's most important writers.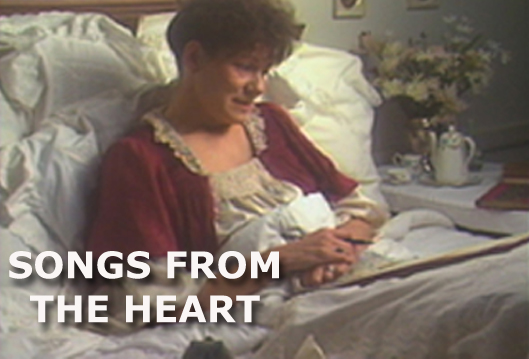 Gillian Barge as Edith Wharton
Edith Wharton's search to find meaning as a woman and a woman-writer is woven together with the lives of her characters. It is a journey that still resonates; for so much of her work concerns issues of the heart: fidelity, adultery, duty, responsibility, and the very nature of human love.
Short selections from novels like The Custom of The Country, The Age of Innocence, Ethan Frome, and The House of Mirth and excerpts from her letters and autobiography reveal so much about the difficulties American women of her day faced as they struggled to transcend the barriers of gender.
SONGS stars the late Gillian Barge as Edith Wharton. Ms. Barge worked with the Royal Shakespeare Company and was nominated for an Olivier Award, the top theater award in England.
With a script written by Mickey Friedman, SONGS was directed by Dennis Krausnick, co-produced by Mickey Friedman and John MacGruer, with cinematography by Arnold Beckerman.
SONGS was videotaped in the Berkshire Hills of Western Massachusetts and Connecticut and at The Mount, the estate Edith Wharton built in Lenox, Massachusetts in 1902.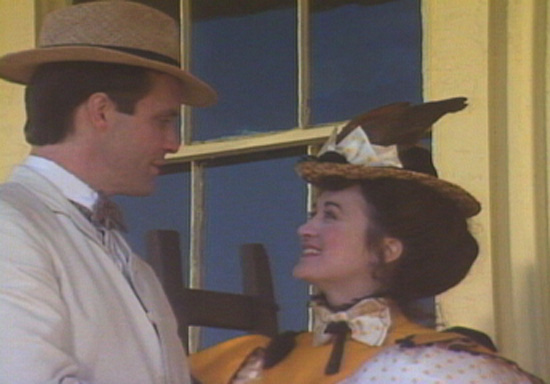 John Talbot & Kathleen Mahony-Bennett, The House of Mirth
Honoring the work of Arnold Beckerman, SONGS was the winner of the Silver Medal for Cinematography at the 1987 Philadelphia International Film Festival. SONGS received the Chris Bronze Award at the 1987 Columbus International Film Festival. It aired on BRAVO and was one of three nominees for the 1988 ACE Award for the Best Dramatic Special on Cable TV. SONGS is in the permanent collection of the Museum of Broadcasting in New York City.
56 MINS.