Mickey Friedman has been making films since 1980. Blue Hill Films evolved out of Mickey's now defunct partnership in Downtown Productions.
An independent filmmaker in every sense of the word, Mickey manages to make films about subjects he cares about with often imited funding.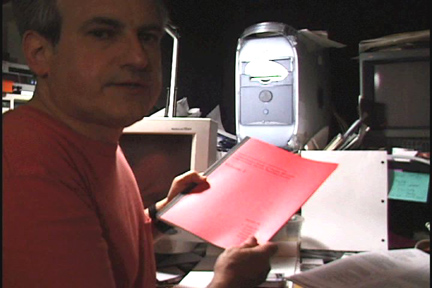 Mickey holds a copy of the Wegman Study in Good Things To Life
He has written plays for children and adults, and scripts for film and television:
Theater
The World Beyond The Hill: The Life and Times of W. E. B. Du Bois. May, 2003, Berkshire Theater Festival.
Emily, a play about Emily Dickinson, Mixed Company, Spring 2000.
Kids Club Theatre and Kids Club Theatre Goes West, music-theatre pieces for children, produced in 1990 and 1991, Mixed Company, Great Barrington, MA.
Songs From The Heart: Edith Wharton, 1984. Performed by Shakespeare & Company in Lenox, Massachusetts five summer seasons since 1984.
The Sad-to-Glad Story of Louie and Lavinia, a play for children. Produced by Shakespeare & Company in 1983.
His book, "A Red Family: Junius, Gladys, and Barbara Scales," will be published by the Univerity of Illinois Press in 2008.