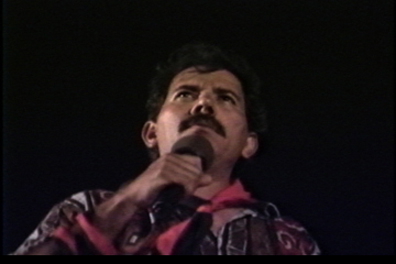 Daniel Ortega at rally
10 Days/10 Years: The Nicaraguan Elections of 1990
offers an experiential look at the very critical elections in Nicaragua in 1990. The elections came after 10 years of painful and violent and exhausting war between the U.S.-financed "Contras" and the Sandinistas who had taken power after their successful revolution against the dictatorial Somoza.
The documentary takes us to the rallies of both candidates: Violetta Chamorro of UNO and President Daniel Ortega of the FSLN, witnesses the Nicaraguan people voting in neighborhoods of Managua, and reveals the reaction of people to the defeat of the Sandinistas. While these events happened many years ago, 10 Days/10 Years tells a timeless story that reveals much about American foreign policy, and the great difficulties people face in creating social and economic justice and restoring peace.
The following is a review by the American Friends Service Committee's video library:
Ten Days/Ten Years: The Nicaraguan Elections of 1990 video 1990 54 mins. Remarkable insight into the February, 1990, elections in Nicaragua. Filmed before, during and after the elections. Features a startling emotional exchange between those who voted for the Sandinistas and those who voted for Chamorro. What emerges clearly is the central message of the program: it was hunger and the loss of their sons caused by the Contra war and the U.S. embargo that led large numbers of Nicaraguans – including Sandinistas – to vote against Ortega. While Sandinista voters express their anger at those who gave up on the revolution, many who voted for Chamorro speak of their suffering and the fact that they just couldn't take it any longer. Powerful presentation of the love and reconciling spirit of Daniel Ortega calling on Sandinista supporters not to be angry with those who voted for Chamorro but to continue the revolution from below. Good section on how the U.S. media covered the elections and portrayed the results, completely misrepresenting the reasons for the Sandinista defeat. A truly eye-opening program needed to understand the drama of Nicaragua in the aftermath of the elections.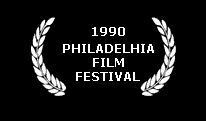 Honorable Mention, 1990 Philadelphia Film Festival
Finalist for Best Documentary, 1990 American Film Institute's (AFI) American Video Conference Awards
54 minutes.
Watch on YouTube:
https://www.youtube.com/watch?v=Lxw7f_Vq4u8
If you've enjoyed watching "10 Days/10 Years" and feel like making a contribution, you can click on the PayPal button below: